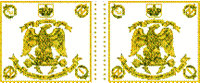 Allegiance
Edit
A Line Infantry Regiment of the The Grand Duchy of Kleve Berg, a client state of the French Empire.
April 1809 – Unit ready for deployment in Germany with several added Prussian conscripts.
17 April 1809 – Set of to Mainz with the Company of Horse Artillery as part of Kellerman's Reserve Corps in time to support King Jerome of Westphalia against Dornberg's rebellion.
October 1811 – Battalions from the existing 1st, 2nd and 3rd Regiments used to make a 4th.
Organisation
Edit
1808 – 3 battalions with 6 companies of 120 men.
1809 – 2 battalions with 6 companies (1 Grenadier, 4 Fusilier and 1 Votigeur) of 120 men + 1 Depot-Kompagnie. About 1,530 men.
 Uniforms (Approx.)
Edit
Company
1 (Gren)
2 (Fusil)
3 (Fusil)
4 (Fusil)
5 (Fusil)
6 (Volt)
Facings
Sky Blue